Welcome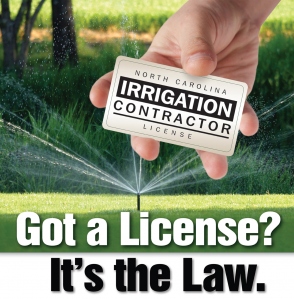 The North Carolina Irrigation Contractors' Licensing Board was established by legislation  January 1, 2009. The Board oversees the licensing of Irrigation Contractors in North Carolina. The purpose of licensure is to protect the public health, safety and welfare and to promote the efficient use of water. The new licensure law became effective on June 30, 2009.
According to the licensure law, no person shall engage in the practice of irrigation construction or contracting, use the designation 'irrigation contractor', or advertise using any title or description that implies licensure as an irrigation contractor unless the person is licensed as an irrigation contractor. All irrigation construction or contracting performed by an individual, partnership, association, corporation, firm, or other group shall be under the direct supervision of an individual licensed by the Board.
Useful Information
BECOMING A LICENSED IRRIGATION CONTRACTOR IN NORTH CAROLINA
WHY HIRE A NORTH CAROLINA LICENSED IRRIGATION CONTRACTOR?
Forms and Applications
You may download application instructions, the application itself, and all supporting documentation from the Licensure area of this site. You may also complete these forms on your computer. The forms may be printed or saved. The application form, the application fee and supporting documentation must be mailed to the Board office. Any business entity, other than a sole proprietorship, must also complete the corporate license application. This form is also available on this site.