Welcome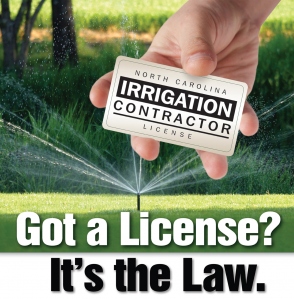 The North Carolina Irrigation Contractors' Licensing Board was established by legislation January 1, 2009. The Board oversees the licensing of Irrigation Contractors in North Carolina. The purpose of licensure is to protect the public health, safety and welfare, and to promote the efficient use of water. The new licensure law became effective on June 30, 2009.
According to the licensure law, no person shall engage in the practice of irrigation construction or contracting, use the designation 'irrigation contractor', or advertise using any title or description that implies licensure as an irrigation contractor unless the person is licensed as an irrigation contractor. All irrigation construction or contracting performed by an individual, partnership, association, corporation, firm, or other group shall be under the direct supervision of an individual licensed by the Board.
Scroll down for an important announcement
CODE OF PROFESSIONAL CONDUCT
N.C. Irrigation Contractors, in the fulfillment of their duties, shall agree:
To act with honesty, integrity, and fairness towards clients and the general public.

To respect and be courteous to colleagues and other professionals in the industry.

To avoid all conduct or practice that deceives the public.

To perform services only in the areas of their competence.

To follow Minimum Standards in irrigation design, installation, and service and to promote Best Management Practices adopted by the NCICLB.

To be environmentally responsible with design, installation, and service.

To protect the environment and the safety, health, welfare of the public.

To adhere to local, state, and federal laws that apply to the irrigation industry.

To promote water conservation practices on a continual basis.

To maintain professional competence through annual continuing education and professional development activities.
ANNOUNCEMENT: Public Comment Period
The public comment period is now open for the NC Irrigation Contractors' rules revisions. To view these rules please click here. A public comment is defined as, a written comment objecting to the rule, in whole or in part, received by an agency from any member of the public, including an association or other organization representing the regulated community or other members of the public (G.S. 150B-21.3A(a)(5)). In order for a comment to be considered by the Board, the comment must address the content of the rule. The public may provide comments to the NC Irrigation Contractors' Licensing Board by email at

 

info@nciclb.org

 

or by US Postal, mail to:
NCICLB
P.O. Box 41421
Raleigh, NC 27629
A public hearing is scheduled for February 21, 2018 from 10:00am to 12:00pm. It will be held at the State Board of Examiners of Plumbing, Heating, and Fire Sprinkler Contractors, 1109 Dresser Court, Raleigh, NC 27609.
The comment period ends March 26, 2018