Welcome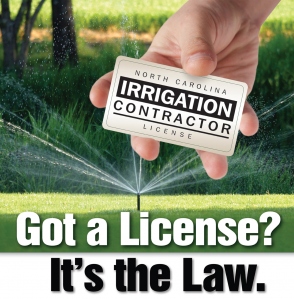 The North Carolina Irrigation Contractors' Licensing Board was established by legislation January 1, 2009. The Board oversees the licensing of Irrigation Contractors in North Carolina. The purpose of licensure is to protect the public health, safety and welfare, and to promote the efficient use of water. The new licensure law became effective on June 30, 2009.
According to the licensure law, no person shall engage in the practice of irrigation construction or contracting, use the designation 'irrigation contractor', or advertise using any title or description that implies licensure as an irrigation contractor unless the person is licensed as an irrigation contractor. All irrigation construction or contracting performed by an individual, partnership, association, corporation, firm, or other group shall be under the direct                                                                                        supervision of an individual licensed by the Board.
Useful Information
BECOMING A LICENSED IRRIGATION CONTRACTOR IN NORTH CAROLINA
WHY HIRE A NORTH CAROLINA LICENSED IRRIGATION CONTRACTOR?
ANNOUNCEMENT: Public Comment Period
The public comment period is now open for the NC Irrigation Contractors' rules revisions. To view these rules please click here. A public comment is defined as, a written comment objecting to the rule, in whole or in part, received by an agency from any member of the public, including an association or other organization representing the regulated community or other members of the public (G.S. 150B-21.3A(a)(5)). In order for a comment to be considered by the Board, the comment must address the content of the rule. The public may provide comments to the NC Irrigation Contractors' Licensing Board by email at info@nciclb.org or by US Postal, mail to:
NCICLB
P.O. Box 41421
Raleigh, NC 27629
21 NCAC 23 .0208 is being proposed for adoption to comply with a proposed statute that will require all occupational licensing boards to develop and implement a complaint process.  The Board is proposing amendment of the other rules because the Board desires to improve the rules by:  1) providing clarification and organization so that the rules are clear and unambiguous,  2) eliminating certain requirements so as to reduce the burden upon the licensees who must comply with the rules, and 3) updating the rules so that they reflect the current reasonably available scientific and technical information.
A public hearing is scheduled for August 10, 2016 from 10:00am to 12:00pm. It will be held at the State Board of Examiners of Plumbing, Heating, and Fire Sprinkler Contractors, 1109 Dresser Court, Raleigh, NC 27609